Aerco Temperature Control Valve
The steam valve offered with the Angelery Heat Exchanger has a high turn-down rate and is capable of meeting the varying loads irrespective of the secondary demand rate.
The valve is supplied as a separate item.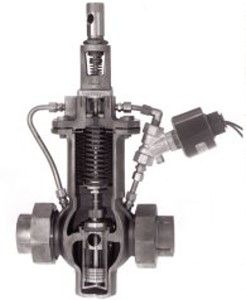 A comprehensive range of control valves is available for hot water primary applications, enabling the correct valve to be offered to match the system requirements.
Please consult Northvale Korting sales for details.
The temperature being controlled by the regulator is sensed by the spiral of a liquid-filled thermal element.
At the valve end of the element's capillary, is a bellows, which is contained by the temperature adjustment sleeve.
A drop in temperature at the sensor causes the bellows to contract, allowing internal pressure to raise the pilot plug, thereby decreasing the differential pressure across the actuator bellows, compressing it against the opposing servo spring.
The lower valve stem now lifts off the lower pilot seat. This equalizes the pressure across the disc seat. Further bellows compression lifts the plug assembly, allowing steam to pass through the valve.
For a rise in temperature at the sensing spiral sensor, a reverse process closes the valve.
The equalization of pressure across the disc seat prior to stroking the valve, inhibits flow directly over the seat, thereby eliminating velocity effects such as wire drawing and contributes to a winder range with a 50:1 turn-down ratio.
Nominal Valve Size

¾" – 1"
1¼"
1½"
2"
in
mm
in
mm
in
mm
in
mm
A
18
457
18
457
18 ½
470
20
508
B
11
279
11
279
11 ¼
286
13
330
C
5
127
5
127
5
127
5
127
D
3 1/8
79
3 1/8
79
3 7/16
87
5
127
E
8¾
222
9
229
9 ¼
235
10
254
Wgt.
25lb
11.3kg
27lb
12.2kg
30lb
13.6kg
40lb
18.1kg
Contact us with any enquiries and we will be happy to help.