Norval Non-Return Check Valve
The Norval check valve range is an industry standard for non-return valves. Most pipeline systems require some form of check valve device to maintain flow in one direction to prevent either contamination of liquids already in the system or damage to the pipework and its ancillary components. Quite a simple function you might think! Experience however tells us a different story.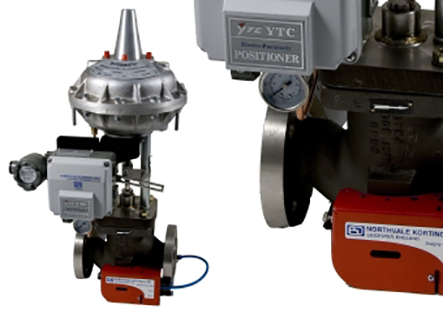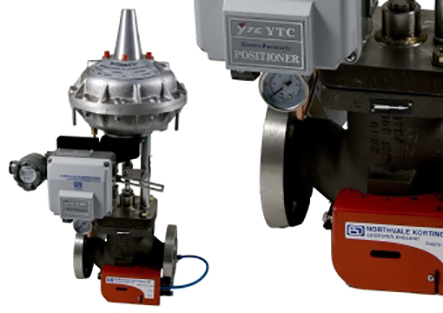 Check valve features:
Tight shut off under minimum back pressure.
Quick response to no-flow or reverse flow conditions.
Low resistance to forward flow.
Lightweight construction.
Ease of installation with unskilled operators .
No maintenance.
It is a stop silent valve.
It stops the reverse flow and is completely silent in its operation, preventing "water hammer".
More benefits:
It is extremely simple.
It operates in any direction, vertically up or down, or horizontal.
High material specification – 316 stainless steel.
Less noise due to slamming shut under reverse flow.
Can be incorporated in a variety of body configurations or simply built into original equipment as a cone and diaphragm assembly.
Check Valve Method of Operation
Flow takes place in the direction of the arrows under forward and reverse flow.
A – Check Valve Open
B – Check Valve Closed
C – Check Valve Diaphragm
D – Check Valve Cone
With flow in the forward direction the diaphragm deflects inwards (A) allowing easy passage of the liquid with little pressure loss. When a no flow, or back pressure, condition occurs the diaphragm returns to its relaxed position (B) sealing off all flow in the reverse direction.
This action is unaffected by the orientation of the Norval Non Return Check Valve.
Stop Silent is a registered trademark of Northvale Korting.
[swf src="https://northvalekorting.co.uk/wp-content/uploads/2019/03/norval.swf" width=600 height=800]
Check Valves

Non-Return

Anti-Slam Backflow Prevention

Diaphragm Valve

CIP Valve

Clean In Process

Large Size Check Valves

Foot Valve
Stainless Steel Check Valve

Marine Valve

Stop Silent

Strainers

Wafer Check Valves

Compact Valves

Swing Check

Disc Type
Air conditioning

Chemical production plants

CIP (Clean in Process)

Compressors

Cooling water systems

Filtration plants

Fire equipment

Food industry

Foot-operated valves

Ground water pumps

Heating systems

Hydrants
Pressure Reducing Valves
Strainers
Butterfly Valves
Flow Regulators
Manifolds
Din Valves
Ansi Valves
Bellow Steam Seals
Low Noise Trims
Valve Repairs
Northvale Korting offers the Norval non-return check valve in a range of body types and sizes. Additionally, different body materials are available including bronze, cast iron, fabricated steel and 316 stainless steel. In order to meet your application requirements, a selection of fitting connections are available, including flanged, screwed and RJT or IDF connections.
The principal types are described here. Please refer below to sections for:
Valve Dimensions for sizing;
Valve Specifications for pressure/temperature ratings, velocity limitations and frequency of operation;
Please contact us or email our Technical Sales for more information. Brochures in pdf format are available from our downloads page.
Type CD
This check valve comprises an integral increased flange cone in stainless steel 316 type and is available in the size range 40 mm (1.5 in) to 200 mm (8 in) diameter for mounting between adjacent pipe flanges to BS 4504 NP 16 or equivalent.
Cone and diaphragm assemblies are also available in nominal 25 mm (1 in) and 32 mm (1.25 in) diameters but are not normally suitable for bolting between standard flanges. A choice of diaphragms is available to suit your application.

Type CIP – RJT or IDF Connections
For many years the Norval Non-Return principle has been very successful throughout most industrial sectors. During discussions with engineers in the Brewing, Soft drinks and Food Industries we established that the Norval principle could be developed to overcome problems encountered with Non-Return Valves in CIP systems.
Today we are also able to utilise customers existing CIP components together with the Norval Cone & Diaphragm maximising operational flexibility and asset value.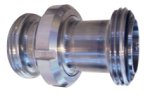 Type CD/SlipStream
SlipStream is the latest development of the well known NORVAL series of Cone and Diaphragm check valves specifically designed for use in compressed air and gas services.
Featuring the familiar perforated stainless steel cone with a Rilsan polymer coating which gives a super smooth, low friction surface over which the diaphragm easily moves during the opening and closing cycles, these non-return valves are generally supplied with the nameplate flag but plain flange check valves can be supplied for insertion into special purpose machinery.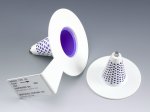 Type CD/F
A flanged check valve incorporating the basic cone and diaphragm assembly housed in a flanged cast iron body BS 1452 grade 17 (ASTM equivalent 48 Gr.35).
Available in the size range 40 mm (1.5 in) to 200 mm (8 in) diameter with flanges to BS 4504 NP 16 or equivalent. Fabricated steel bodies are available as an option. Diaphragms to suit application.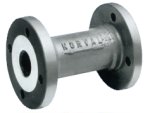 Type CD/S
A screwed pattern check valve incorporating the basic cone and diaphragm assembly with a specially reduced diameter flange in a two piece bronze body to SS 1400- LG2C (ASTM equivalent B 145-836).
End connections screwed 15 mm (1/2 in) to 50 mm (2 in) BSP.
Also available in 316 stainless.

Type CD/WF
Essentially for 'foot valve' applications where single flange bolting to the end of a pipe is necessary. May also be used for bolting to the sides of tanks or bulkheads. Size range 40 mm (1.5 in) to 200 mm (8 in).
Note: Type CD/WF valve should not be used for clamping between adjacent pipe flanges. The first choice for that application should be type CD.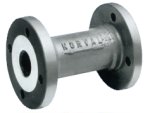 Type CD/S Plastic
A new plastic body is now available to house our unique Norval Check Valve. This is available in sizes ½" to 2″ and can be supplied with screwed BSP end connections or with push fit ends for easy and quick installation.
This is a very lightweight and cost effective solution to customers' needs and is especially in popular in the chemical industries and water authorities. Where stainless steel is not suitable or cannot be used the cone can be manufactured in PTFE.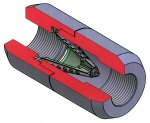 Type CD/M
For large bore installations we offer the Norval valve in modular form, in sizes 250 mm – 600 mm diameter.
These check valves are constructed by mounting a number of small cone diaphragm assemblies onto a centre plate which is housed in a mild steel fabricated body. The number and size of the individual Norval cone is determined by the flow requirements. By using one of our standard mounting plates and fabricated ends, a permutation to meet all requirements can be achieved. If required, a hand hole cover can be incorporated in the body.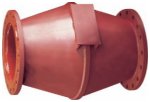 Frequency of Operation
When selecting Norval check valves particular attention should be given to the period that the valve will remain in the open position without a flow reversal taking place.
The elastic memory of the diaphragm is time dependant and, if left open for long periods, may result in slow closure of the valve under reverse flow with subsequent leakage.
The degree of diaphragm deformation is a function of the service, temperature and material. Unlike conventional check valves, the more arduous and frequent the operating cycle the better Norval works.
Velocity Limitations
Liquids – Norval check valves are designed for maximum continuous liquid velocities of 3m/sec with intermittent peak velocities up to 3.6m/sec. Where velocity conditions exceed these maximums you are recommended to fit a larger valve.
Gas and Compressed Air – Since Norval is essentially a liquid services check valve you should consult our technical department before considering for gas and air applications.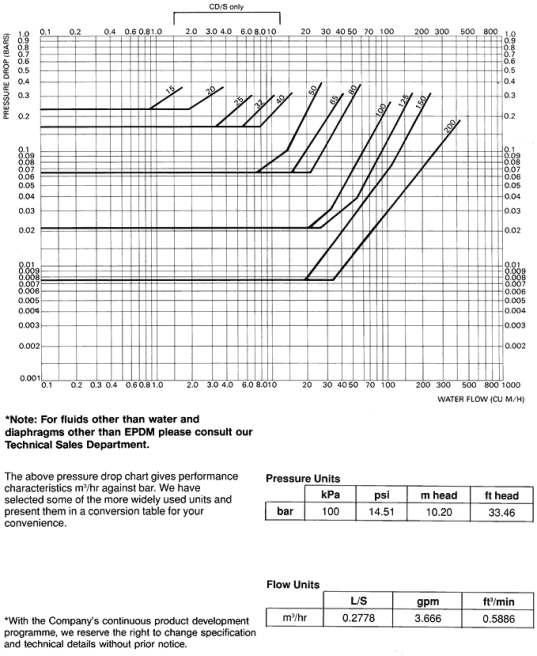 Contact us with any enquiries and we will be happy to help.