Respected manufacturer of valves, eductors and ejectors, Northvale Korting, has expanded its range of angle valves – 2-way pneumatically actuated valves designed and manufactured to be ideal for a number of applications, some of which may call for the control of aggressive media.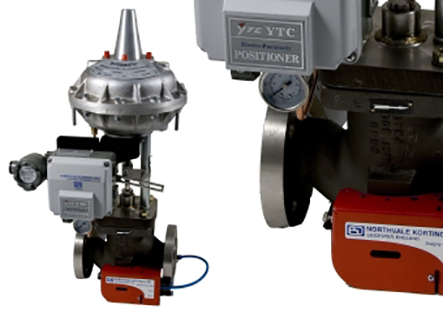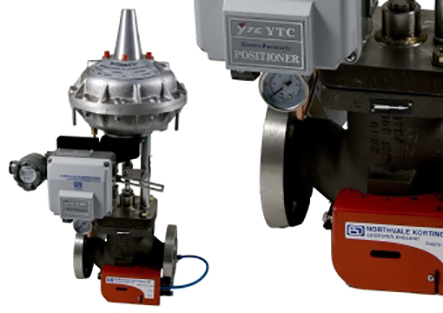 Introducing Modulating Angle Valves
The manufacturing firm has introduced modulating angle valves to its portfolio in response to customer request and global distributor feedback. These Angle seat valves allow for high flow rates, and can operate with high temperature and high viscosity media and from zero differential pressures.
Speaking at his facility in Leicester, Managing Director Stephen Wright, says:
"We have offered angle valves as part of our product range for a number of years but of late customers have also been asking us to apply our manufacturing expertise to the development of a range of modulating angle valves. The design team here in Leicester considered the proposition and has drawn up a series of enhancements to the typical internal engineering of the angle valves to offer our customers a better engineered product."
Northvale Korting's modulating angle valve internals are machined on its CNC cells and fitted with an I to P 4 to 20 milliamp electronic positioner. The angle valve can now also be fitted with limit switches to give feedback to customers' own computer-controlled systems, assuring effective and reliable process flow.
"We expect this valve to be of interest to the process industries, particularly food manufacturers, bakeries, breweries and distilleries,"
adds Stephen.
A New Addition to the Range
A new addition to the Angle Valve range is the model with limit switches which will show the open & closed status of the valve. The design incorporates two limit switches enclosed in a IP 65 safe housing. This product is available on all sizes from 1/2″ to 2″.
For further information & prices please use the contact us page.
Mechanical Switch (Micro Switch)
Contact Rating:
16 A
Voltage:
250 V AC
Operating Temperature:
40°C to 150°C
Mechanical Lifetime
2.5 x 105 Ops
Method of Operation
Sometimes referred to as air-operated angleseat valves or externally operated valves, angle seat valves are operated by a pressurised pilot medium, often air.
The valve features a pneumatic actuator. The pilot medium flows into the actuator cylinder under pressure and causes the piston to act so that the seat seal opens or closes permitting or prohibiting flow.
Angle Valve Applications
Typical applications include:
Air drying equipment
Autoclaves
Bottling equipment
Cooling
Dispensing equipment
Dye mixing
Gas
Ink mixing
Liquids
Paint mixing
Pollution management
Pre-heating
Process control
Steam distribution
Sterilisers
Textile equipment
And so on
Contact us with any enquiries and we will be happy to help.